Jacqueline Kennedy's Engagement Bracelet
Product Description
John was so elated that Jackie had accepted his proposal of marriage that he purchased this very special engagement present for her on July 11, 1953. She was very moved by her fiance's thoughtfulness.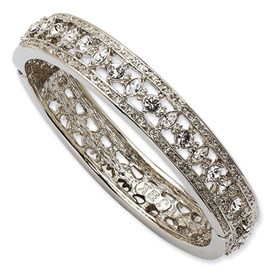 It is rhodium plated and set with alternating round and marquise-cut CZs. A beautiful work of art with hand-worked filigree. Available in both 7 and 8 inch sizes.
This comes gift boxed in a velour covered steel case and with a Camrose and Kross certificate of authenticity. Also included is a romance card with some fascintaing information about Jackie and her life.