Jacqueline Kennedy's First Lady Necklace, Available for Immediate Shipping
Product Description
JFK knew how invaluable Jackie had been during his campaign for the Presdiency in November of 1960 and was fully aware that he might not have won without her. To show his appreciation he presented Jackie with this set (necklace, bracelet and earrings) whn she became First Lady.
This 24k gold plated first lady necklace has 8 emerald colored swarovski crystals and 28 swarovski crytals.This 18 inch long necklace is secured with a fold over clasp. There is rhodium plating eround emerald-colored swarovski crytals.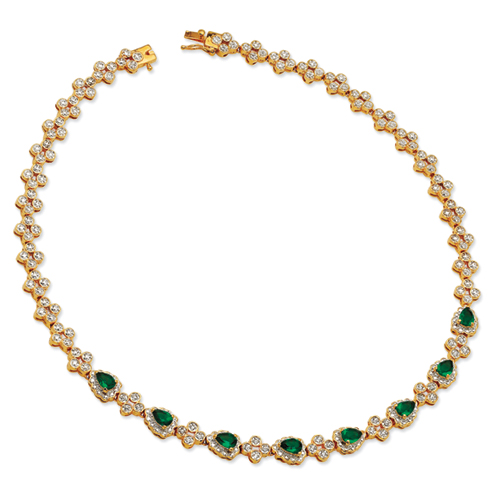 Jacqueline Kennedy Collection
She wore them with the grace, elegance and dignity that made her America's most loved first lady and a shining icon the world over.
Now Camrose & Kross has created gorgeous jewelry rendered from pieces hand picked by Jacqueline Kennedy herself. Each piece reflects the impeccable taste and radiant charisma of one of this century's most enduring legacies.
Camrose and Kross has reproduced the Jacqueline Kennedy Collection as costume jewelry. Most of the pieces are white metal alloys electroplated in either 24k gold, rhodium or platinum. All rings are vermeil: pure sterling silver plated in 100 mils of 24k gold. All of the jewelry is guaranteed for life against defects in workmanship. This includes plating chipping or wearing, stones falling out or defective hardware and findings. Watches fall under the same warranty, except for their movements, which are guaranteed for 1 year.
Each piece of jewelry is gift boxed in a velour covered steel case and comes with a Camrose & Kross certificate of authenticity. Also included is a romance card with some fascinating information about Jackie and her life.