Jackie Kennedy Simulated Amethyst Mesh Bracelet.
Product Description
A birthday gift from John F. Kennedy in July 1960 to Jackie. Jackie loved to wear this bracelelt stacked with her pave mesh bracelet.
Jackie spent a lot of time on the campaign trail with JFK, often bringing larger crowds than he could have on his own. Her mesh-design bracelet, set with pavé diamonds, was a gift from JFK. He also presented her with a similar bracelet set with amethyst, one of her favorite stones. Jackie wore the two bracelets either stacked or separately. She famously wore this bracelet while greeting Princess Grace Kelly at the White House.
Description
Simulated Tanzanite Mesh Bracelet has 67 Swarovski crystals in a Tanzanite color, 7" with fold over clasp and 1" extender, 24k gold plating.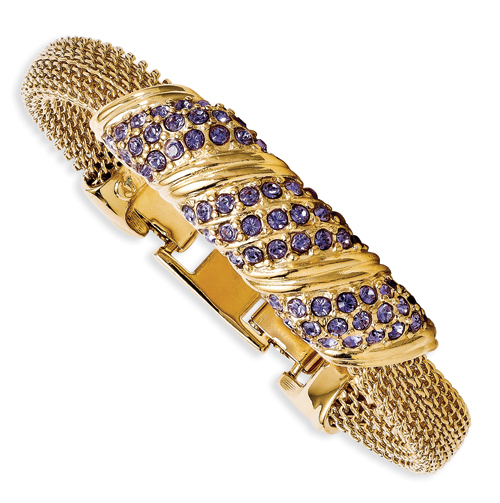 Jackie decided to have extenisions made to her bracelelts so she could wear the jewelry over gloves, or even sweaters if necessary.
Comes in an jewelry gift boxed in velour-covered steel case and with a Camrose and Kross Certificate of authenticity. Also included is a romance card with some fascinating information about Jackie and her life.